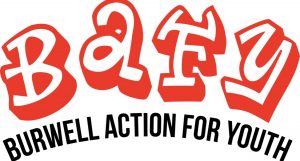 About us
We are an organisation based in Burwell, Cambridgeshire. Our aim is to provide support, information, advice, guidance and a safe and fun space for you the young people that access our service.
We offer a 1 evening a week youth club for young people aged 10+, school years 6-11 (and up). Currently we are using the Phoenix Room at BVCPS, providing a safe and fun environment for our members.
BAFY provide a wide range of activities including games, a ping pong table, pool table, Wii, PlayStation 4 as well as weekly resources used in club.
Our members are provided with a full tuck shop, including sweets, chocolate, hot food, lollies, and hot and cold drinks. The prices are very affordable. Entry is £1 weekly, however your first time is FREE.
All of the volunteers/staff at BAFY have current DBS checks. We also have an extensive list of policies we adhere to, they are available on request, as are our insurance documents and risk assessment.
Support us at:
https://www.justgiving.com/crowdfunding/burwellbafy
Find us on:
Instagram @burwell.bafy
Facebook https://m.facebook.com/BurwellActionForYouth/